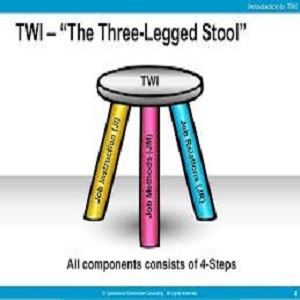 The American Society for Quality's (n.d.) "core definition of total quality management (TQM) describes a management approach to long–term success through customer satisfaction. In a TQM effort, all members of an organization participate in improving processes, products, services, and the culture in which they work.
The emphasis of TQM is on producing products and services with continuously improving productivity and quality, supported by self-improvement and on the job education.
TWI is a portfolio of dynamic learning by doing job programs. Its integration with TQM is perhaps best demonstrated by Toyota's Kaizen philosophy and practices (Jusko, 2008). It is believed to be the root of contemporary systematic and systemic training of workers in organizations (Dooley, 1945; Ruona, 2001).
The blending of TQM and TWI approaches with online learning, optimizes the alignment of skill learning with business strategies and operations.
SIE provides TQM and TWI consulting services, facilitated by consultants expert in business management and executive education.
REFERENCES
Dooley, C. R. (1945). The training within industry report, 1940-1945. Washington, DC: U.S. War Manpower Commission Bureau of Training, Training Within Industry Service.
Jusko, J. (2008). TRAINING WITHIN INDUSTRY:       Everything old is new again. Industry Week, 257(6), 52-54. Retrieved from     https://search.proquest.com/docview/219758671