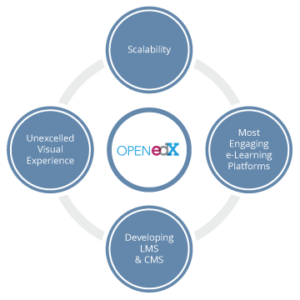 SIE deploys online courses on the Open edX LMS.
The Open edX software is open-source technology that makes learning easier and studying faster.
It was created by MIT and Harvard University, and was quickly supported by universities such as UC Berkeley, Georgetown, and Stanford, and companies such as Google and Microsoft.
The Open edX project is a global success. It powers major MOOC initiatives, hosting blended and online courses, all around the world.
The Open edX system provides superior pedagogy.
Open edX technology allows instructors to create engaging learning sequences, which promote active participation as students alternate between learning concepts and solving simple exercises to check their understanding.
Students can move at their own pace following a self-regulating learning process. They complete interactive assessments and receive instant feedback.
SIE can also deploy courses on oodle on behalf of organizations who are already committed to or otherwise prefer that online courses be delivered to their students on that LMS. Moodle is an Australian made LMS used by some New Zealand Secondary school and Tertiary education providers.
REFERENCES
OPENedX: What Makes the Open edX Platform Unique? See These Cases. (2018). Retrieved from https://open.edx.org/blog/what-makes-open-edx-platform-unique-see-these-cases